The expert tire operation in Cyprus
Call Now:

22 46 76 26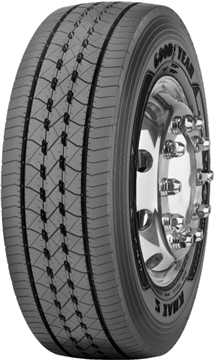 Truck
GYR Regional RHS II +
The 17.5 "and 19.5" new generation new generation tires incorporate KMax technology - a combination of sophisticated design technology and manufacturing features. The wide 5-ribbed ribbed pattern with high density flexomatic grooves ensures excellent mileage, good handling and stability, and good braking on wet surfaces. Trendy tread compound, flawless skeletal and liner materials ensure high durability and redevelopment for these drive axle tires.
The 17.5 "and 19.5" RHS II tires have been developed for a wide range of applications and meet the modern needs of multiple use in regional transport and distribution.
• High mileage, good handling and even wear
• Improved braking on wet roads
• Uniform wear pattern
• Reduced retention of stones

| | | | | | |
| --- | --- | --- | --- | --- | --- |
| Size | Width | Height | Rim | LI/SI | LI2/SI2 |
| 315/80R22.5 | 315 | 80 | 22.5 | 156L/154M | |
| 295/80R22.5 | 295 | 80 | 22.5 | 152/148M | |
| 385/65R22.5 | 385 | 65 | 22.5 | 160K | 158L |
| 215/75R17.5 | 215 | 75 | 17.5 | 128/126M | |