The expert tire operation in Cyprus
Τηλεφωνήστε στο:

22 46 76 26
Air Loss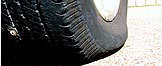 Air Loss
Common air loss problems and solutions.
How can I check my tyres for wear problems?

How much air should I put in my tyres?

When is it safe to repair a flat tyre?

My tyre has gone flat. Is this covered by my D2D Limited Warranty?